Keeping the economic
wheels of Scotland turning
Coneworx' expert teams operate across Scotland's Motorway, high-speed dual carraigeway and A-Road network. The safety of the travelling public and our highly trained staff is always our number one priority but we also focus on careful planning to ensure we develop highly efficient solutions and minimize disruption for road users.
We work collaboratively with your team on everything from initial planning and feasibility studies through to risk assessment and stakeholder liaison. These critical steps allow us to refine operational procedures for specific schemes and accurately provision the resources and equipment required.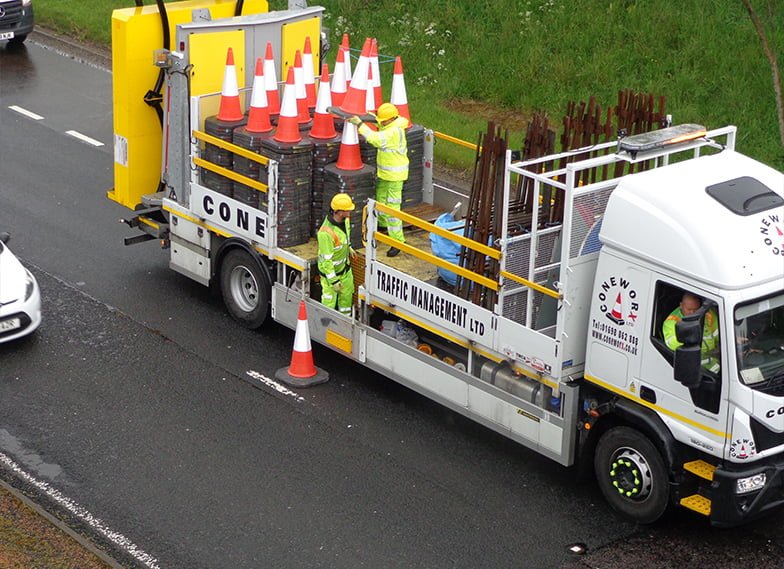 12 A/B Services
Coneworx provides a comprehensive range of TM services
for high speed road networks, including:
Feasibility Studies

Planning, Consultancy, Advisory Services

CAD Design and Surveys

Narrow Lane Systems

Contraflows, Tidal Flows

Road Closures and Diversions

Static and off-peak Lane Closures

Convoy Systems
Our TM Process





PLANNING
Dedicated account contact throughout your project.


MANAGEMENT
Completely transparent and auditable works management.


COMPLETION
Meticulous site clearance with zero environmental impact.
"Coneworx are a competent and reliable traffic management sub-contractor that we regularly trust to deliver traffic management to a tight programme and often in challenging locations/circumstances at short notice."

Need a safe, efficient and cost-effective traffic management solution?
Whatever your traffic management problem you can always rely on Coneworx